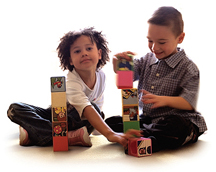 HOLY CROSS EARLY CHILDHOOD EDUCATION
Holy Cross Lutheran Church Early Childhood Education Program Information & Description

Our Early Childhood/Mother's Day Out is on the Nederland ISD schedule

SCHOOL DAYS OF OPERATION
MONDAY, TUESDAY, WEDNESDAY, & THURSDAY
9:00 AM until 2:00 PM
ECE enrollment for 2023-24 has begun! Please call the school office (409)722-2177
for more information and to make appointments for registration.

Registration is on a first come, first served basis.
The Holy Cross (ECE) Early Childhood Education Program is part of the overall ministry of Holy Cross Lutheran Church in Nederland, Texas.
The ECE program is highly regarded in Mid and South Jefferson County for its excellence. The Port Arthur News awarded the program a "blue ribbon" as the best in the area.
Holy Cross' ECE program reaches far beyond the membership of the congregation. Over 90% of the children who attend the program are not members of Holy Cross.
The ECE Program operates four days a week, Monday through Thursday, offering classes for students 18 months to 4 years of age. The classes are from 9:00 AM until 2:00 PM on those days. The ECE calendar follows a modified school calendar of the Nederland Independent School District.
The ECE Program balances the development of educational skills with the development of the faith of the child. We offer chapel on Tuesdays at 9:30 AM. The chapel services are conducted by the Pastor and the Youth Leader. (You are more than welcome to come and observe.)
VERONICA OCHOA is the ECE Director and she can be contacted at 722-2177 or holycrossece@gmail.com for further information.


---